Don't Rake Those Leaves — Mulch Them Into Your Lawn
Scientists Say: Don't Rake Leaves
BENEFITS OF NOT RAKING LEAVES
1. WILDLIFE HABITAT OF LEAF LITTER
The National Wildlife Federation states: "The leaf layer is its own mini ecosystem!"
The leaves are a natural habitat for butterflies, salamanders, chipmunks, box turtles, toads, shrews, earthworms and others. They lay eggs in the leaves and feed on and under the leaf layer. By raking or blowing leaves, you disrupt their life cycle and eliminate beneficial insects.
Start peeling the layers back of a leaf pile, and see all the wildlife.
2. INCREASE BENEFICIAL INSECTS
By providing a habitat, you increase the population of beneficial insects for gardening season. When leaves are removed from the yard, automatically you're decreasing beneficial insects that are your friends come growing season.
3. INCREASE SOIL HEALTH
Add leaves as a mulch to decompose or till into the soil to add organic matter and nutrients. Organic matter in soils will help regulate soil moisture. Also, earthworms love soil with decomposed leaves. In fact, if you're looking for earthworms, scrape back to the bottom layer of leaves and you'll be amazed.
4. AVOID POLLUTION FROM LEAF BLOWERS
Let's face it, not everyone has time to rake. If you let the leaves be, you can avoid noise pollution of leaf blowers and fossil fuels to run them.
5. SAVE TIME
Depending on yard size and the amount of deciduous trees that are in the yard will determine the hours it will take to rake. But, one thing is for sure…count on hours and often a weekly chore until all leaves have fallen. Do you have time for that?
Save time and help your lawn by mulching leaves.
Leaf mulching will save you work, improve your soil, and add nutrients.
Here's How To Do It:
Chop Those Leaves With Your Mower
Take the grass catcher off your mower and mow over the leaves on your lawn. You want to reduce your leaf clutter to dime-size pieces. You'll know you're done mowing leaves when about half an inch of grass can be seen through the mulched leaf layer. Once the leaf bits settle in, microbes and worms get to work recycling them. Any kind of rotary-action mower will do the job, and any kind of leaves can be chopped up. With several passes of your mower, you can mulch up to 18 inches of leaf clutter.
How to Adjust Your Lawn Mower Cutting Height
Most mowers allow you to adjust the height of each wheel.  If you raise the wheel, you lower the cutting deck and as a result, get a shorter cutting height.  A lot of times, people don't realize that you need to adjust the back wheels as well as the front wheels.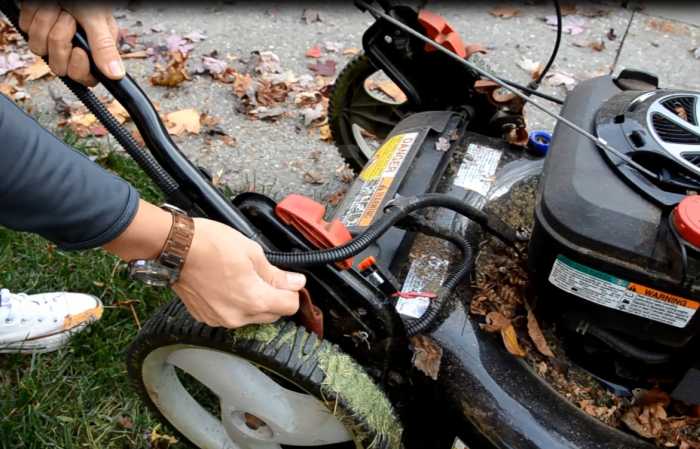 Note: If you're mulching leaves, it is helpful to make one pass with the front of the mower raised high and the back of the mower cutting shorter.  For the second pass, after most of the leaves are chopped, you can lower the front of the mower to match the back.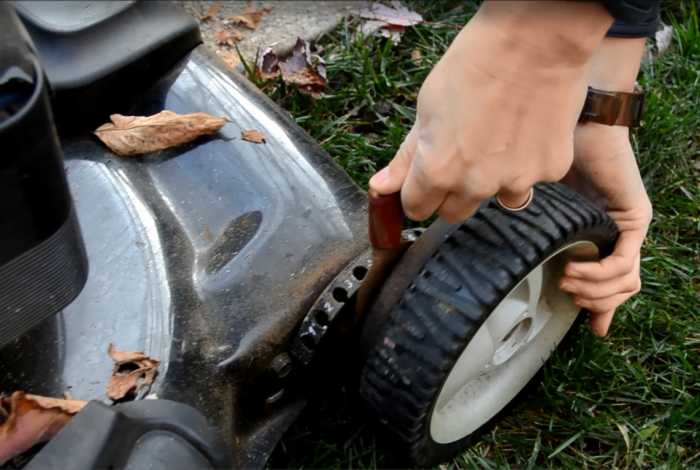 If you spray a little lubricant (like this vegetable based Lubri Magic) on the wheel height adjustment levers, they'll be easier to adjust.
We hope you find these tips helpful. Be sure to drop us a line if you have any questions.